Arran Banner golf news
Want to read more?
We value our content and our journalists, so to get full access to all your local news updated 7-days-a-week – PLUS an e-edition of the Arran Banner – subscribe today for as little as 48 pence per week.
Subscribe Now
Lamlash Golf Club
Saturday July 1, first round Club Championship qualifer, CSS67 R/O, par 64. 1 Iain Murchie 67-5=62, 2 Neil Stewart 71-4=67, 3 Danny Currie 83-15=68. Scratch Iain Murchie (67). Magic Twos J O'Sullivan, A Wales both @16th.
Sunday July 2, second round Club Championship qualifier and Jamieson Cup 2, CSS65, par 64. 1 Todd Jameson 66-4=62, 2 Dougie MacFarlane 63-0=63, 3 Paul Jameson 76-12=64. Scratch D MacFarlane 63. Magic Twos N Stewart, I Murchie @16th, T Jameson @8th, P Jameson @5th, D MacFarlane @8th and 16th.
The first eight qualifiers go forward to the quarter finals this Saturday. The top four qualifiers are: 4 Neil Stewart 71=72=143, 3 Todd Jameson 75=66=141, 2 Iain Murchie 67=72=139, 1 Dougie MacFarlane (74=63=137).
Iain Murchie was presented with the Qualifiers' Cup with a net score of 129.
Fixtures: Saturday July 8, Club Championship quarter final, 4.30pm. Sunday July 9, Club Championship semi final, noon. Hamilton Bowl 3, 8.30am, 9.30am and 12.30pm. Thursday July 13, Summer Cup, make up your own games, see Starter for times.
Friday July 14,  E I Cannon Charity Day. Four Ball Stableford, in aid of Santa's Sparkle.
Ladies Section: Fixture: Wednesday July 19, Ladies Open Tri-am, spaces still available. Tel: 700591. Monday July 24, Mixed Fours Open competition.
Corrie Golf Club
Wednesday June 28, Wednesday medal. 1 L Hartley 74-14=60, 2 R Logan 69-6=63, 3 A MacDonald 75-11=64. Scratch, E McKinnon 66. Magic twos, Marvin Elliot. Yet another very good score from Len. The magic twos sweep rolls over yet again to a new high.
Saturday July 1, commemoration shield and rose bowl. 1 D K Henderson 67-7=60 and scratch, 2 J Innes 74-9=65. Magic twos, S Beardsley. Very good scoring by D K who wins both the shield and rose bowl. It has to be said a very disappointing entry for one of the clubs most prestigious competitions.
Fixtures: Saturday July 8, Club Championship Round Two, ballots at 9am and 2pm. Monday July 10, Club Championship Quarter Final at 5.30pm. Wednesday July 12, Wednesday Cup, ballot at 5pm. Friday July 14, Club Championship Semi Final at 5.30pm.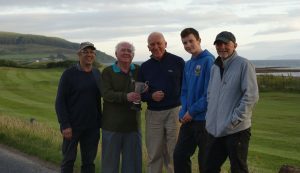 Machrie Bay Golf Club
Tuesday June 27, Peter Sutton, CSS 62. 1 R Woods 78-17=61, 2 C Laing 80-18=62, 3 W Kelso 78-9=69. Tuesday June 27, Lady Mary, CSS 66. 1 E Kelso 91-21=70.
Saturday July 1, Captain's Day, 22 played in damp conditions although the course was superb and the catering was out of this world. Many thanks to David Jeffrey and Katie and her team. Stableford, nine holes from the yellow tees. Ladies: 1 M Woods, 18pts, BIH, 2 F Scott, 18pts, 3 E Kelso, 16pts. Gents: 1 D Brookens, 20pts, 2 R Woods, 19pts, 3 C Rutterford, 18pts, BIH. Nearest the pin: Ladies,  K Genda at the 5th. Gents,  R Woods at the 2nd. Longest drive: Ladies, E Kelso at the 6th. Gents, P Betley at the seventh.
Fixtures: Tuesday July 11, Peter Sutton/Lady Mary at 12.30pm and 5.30pm. Thursday July 13, Ladies Open Tri-am, entry forms available now from F Scott or in the tearoom.
Brodick Golf Club
Wednesday June 28, Summer Cup, 31 played, CSS 64. Six players tied on 64, top three ACB. Jim Green 85-21=64, Bob McCrae 72-8=64, Angus Raeburn 75-11=64. Scratch, Bob McCrae, 72, ACB. Sunday July 2, Brandon Qualifier, 19 played, CSS 65. Bruce Jenkins 67-7=60, Iain MacDonald 73-7=66, Donald McKinnie 78-11=67, ACB. Scratch, Bruce Jenkins 67. Great score from Bruce, who won both the handicap and scratch by six shots.
Fixtures: Sunday July 9, Marchioness of Graham Trophy, bogey competition. draw at noon.
Congratulations to our junior team on retaining the Kelso Cup at Whiting Bay.
Whiting Bay Golf Club
Wednesday June 28, Cancer Relief Open, 19 played in the first of the summer charity support opens. Conditions were tricky with a cool easterly wind adding to the difficulties provided by the fast greens. CSS went up to 64 and 65 for the ladies. None of this deterred Ronnie Mann who continued his winning streak to take first place by four shots.
1 Ronnie Mann 13, 59, 2 Nicol Auld 4, 63, ACB and lowest  gross, 3 Andy Martin 11, 63, 4 Stan Rainey 11, 65. Sunday July 2, Medal, 11 played on a cool day more like April than July. Course conditions were good with the greens holding after Saturday's rain. That said, scoring was competent rather than brilliant, but good to see Jamie Macpherson back in winning ways after his injury forced layoff.
1 Jamie Macpherson 6, 63, 2 Alasdair Kelly 7, 64, 3 Douglas Auld 22, 65, 4 Tom Paterson 0, 67 and lowest scratch. CSS stayed at 63 and there were no magic twos.
Fixtures: Sunday July 9, The Whiting Bay Improvements Trophy Open. Wednesday July 12, Summer Trophy. Saturday July 15, Texas Scramble, 15 hole fun event starting at 12noon.
Shiskine Golf Club
Sunday July 2, Victory Shield and Kay Maxwell, 37 played, CSS 42. 1st Class: 1 Jack McNally 45-5=40, 2 Martyn Ker 43-2=41, 3 Andy Gallagher 47-4=43, BIH. Scratch, Martyn Ker 41. 2nd Class: 1 Colin Rutterford 52-11=41, 2 Allan Hutton 58-14=44, BIH, 3 Mike Hesp 55-11=44. Magic twos, Mike Adams, Martyn Ker x 2, Jack McNally.
Fixtures: Sunday July 9, Shiskine Valley Charity Texas Scramble. Thursday July 27, ladies Greensome.
Arran Golfers Association
Friday June 30, AGA Corrie Hotel Cup at Machrie Bay Golf Club. Five teams of four went out and played 18 holes from the yellow tees, Stableford. In the individual sweep, the result were: 1 David Brookens, 40pts, 2 John O'Sullivan, 38pts, 3 Ross Traill, 37pts. Machrie Bay won the cup with a total of 135 points – congratulations!
Junior Section: Friday June 30, Kelso Cup. The final of the Junior Match Play Competition was played between Brodick and Shiskine Golf Clubs at Whiting Bay Golf Club. It was a cloudy, still day. Wolfie Kroner, the Whiting Bay captain, generously provided a large box of balls which was shared between the players.
The teams were:  Brodick: Mathew McDonald, Thomas, Gilmore, Kyle McNicol, James Currie and Charlie Aitken. Shiskine: Adam Brown, Leah Brown, Rory Currie and Donald Currie. The match was refereed by Wolfie Kroner and Stan Rainey.
It was played with impeccable etiquette and very good sportsmanship. Whiting Bay treated the players to burgers and chips, which was very much appreciated.
Ladies and gents winners at the Machrie Bay Captains Day, Marilyn Woods and David Brookens. B27golf01No
AGA President Jock Kelso presents the AGA Corrie Hotel Cup to the winning Machrie Bay team; John Milesi, David Brookens, Ross Traill and Ron Woods. B27golf02No